Things You Must Know Before Purchasing Patches On Hoodies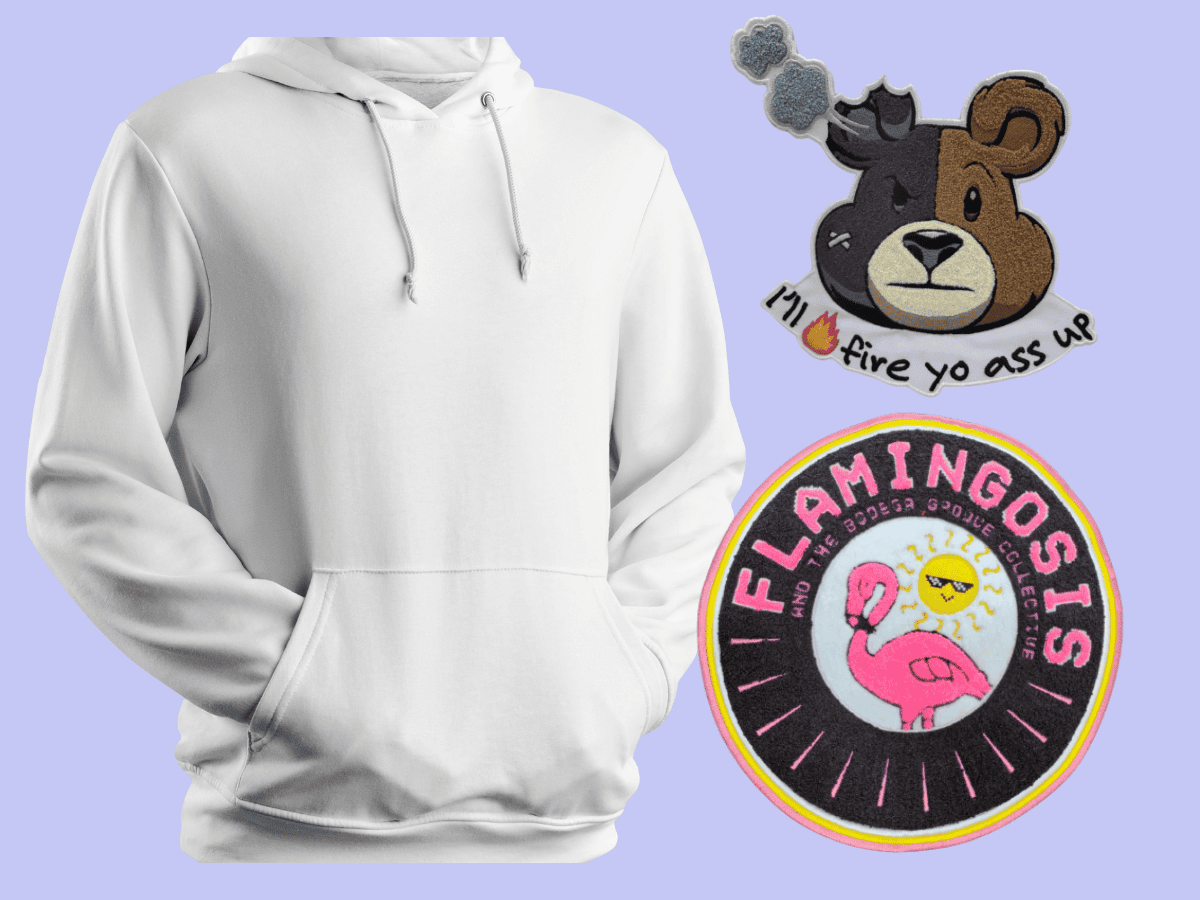 A hoody without text or font is incomplete. From street fashion to celebrity wearers, everyone needs to say his mind on hoodies. These words either be printed or patched.
In this blog, I am going to unveil basic things that every hoodie wearer must know before decorating the next stock.
Can You Put patches On A Hoodie?
Yes, any entrepreneur or start-up can easily put custom patches on a hoody. But they must know things like the right placement, embroidery type, and how to stick custom designs to hoodies.
Let's begin with right placement of patches on hoodies;
What Is Right Placement?
There are 8 key placements for patches on hoodies that have a specific purpose.
#1 Right/Left Chest
Placing patches on the upper left or right breast is a classic choice. It's a traditional place that works well for any size of hoody.
#2 Centre Of Front/Back
A centered chest for patches is a good choice for larger patches. It says loud and clear what represents your brand logo.
#3 Sleeves
Sleeves near the shoulder or closer to the wrist a trendy and eye-catching for mid-range patches up to 5 inches. This is a popular choice for streetwear and sportswear.
#4 Back Placement
Stitching a patch on the back of the hoodie is a great way to create a focal point. This also works well for big-sized patches.
#5 Hood
The hood of the hoody is also used for a unique look. This can add a touch of individuality to your hoodie.
#6 Pockets/Pouch
If your hoodie has a front pouch pocket, you can place a patch on it for a distinctive style.
#7 Along The Zipper
Zipper hoody heat press patches along the zipper line, either on one or both sides, this looks cool.
#8 Lower Hem
Utilizing the lower hem of the hoodie for patches adds an unexpected touch to your design.
What is the Best Color for Hoody?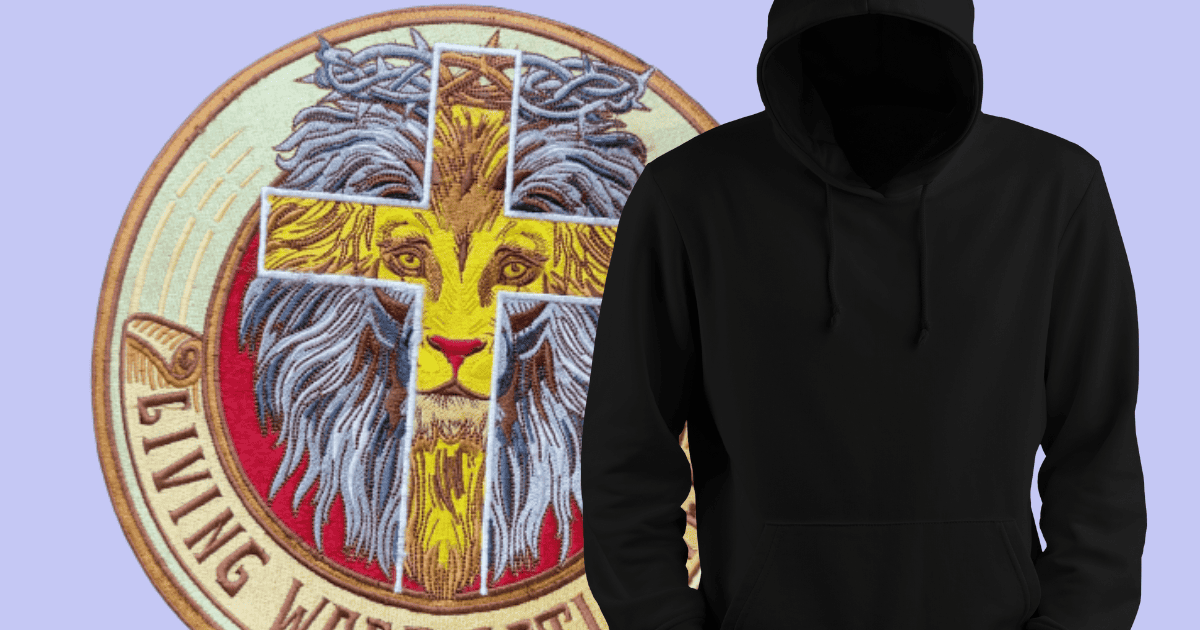 Black hoodies always look classic due to the wide match to custom patches. There are some versatile colors most popular such as gray, navy, and blue. Olive green, burgundy, and shades of blue are also loved very much.
Do Hoody Colors Vary?
Yes, hoodies are created in many colors but the most used vary based on trends, seasons, and individual preferences, which can change over time.
What Color Patches Look Good on a Black Hoody?
Black hoodies offer a great base due to the strong contrast for many colored patches. The ultimate choice of patch color depends on personal preferences. Small business and event hoodies prefer Colors like neon green, vibrant pink, or electric blue for an eye-catching impact. While metallic white patches also offer a striking clean look against a black hoodie.
Designing Custom Hoodies With Patches
Custom-made patches can be placed two ways onto hoodies;
Heat press/Iron-on
Sew-On/Stitch Around
How to Iron on Embroidery Patches on Hoodies
Ironing on patches to a hoody can be a great way to personalize your clothing. Here's a general step-by-step guide on how to iron on patches:
Materials You'll Need:
Custom patches
Hoodie
Iron
Ironing board
Piece of fabric (optional, to protect the patch and hoodie)
Thin cloth or cotton towel
Step-By-Step Guide
Place the hoodie on a flat table and determine your desired place to put it on. It's recommended to try on the hoodie and mark the desired patch locations using pins or paper tape.
Make sure your iron is set to the appropriate heat setting recommended for the type of fabric your hoodie is made of
Place the hoodie on the ironing board.
Cover the patch area with a thin fabric or towel.
Press the iron on the patch area, using a firm, even pressure for about 10-15 seconds. (10 seconds for chenille/15 sec for embroidery patches) This helps to ensure that the adhesive on the patch properly adheres to the fabric.
Lift the iron and the protective fabric, and check the patch to see if it's securely attached. If not, repeat the ironing process until it's firmly in place.
NOTE: Allow the patched area to cool completely. This helps in setting the adhesive properly and ensures that the patch sticks well to the hoodie.
Recommended Time and Temperature For Embroidery Patches;
Temperature: 320 F
Time: 20 Sec
Recommended Time and Temperature For Chenille Patches;
Temperature: 320 F
Time: 15 Sec
We recommend using a Teflon pillow with light pressure on a heat press (For Chenille Patches)
Using Adhesive spray is also recommended
How To Sew On Custom Patches on Hoodies
Things Needed
Custom patches
Hoodie
Needle
Thread (color that matches the patch or the hoodie)
Scissors
Straight pins (optional)
Instructions:
Position the Patches: Lay your hoodie flat on a surface and determine where you want to attach the patches.
Thread the Needle: Cut a length of thread (usually a manageable length that won't tangle or break too often). Thread the needle and tie a knot at the end.
Secure the Patch: Place the patch in the desired position on the hoodie. If needed, you can use straight pins to temporarily secure the patch in place.
Start Sewing:
Begin sewing from the inside of the hoodie to hide the knot. Push the needle through the backside of the fabric and patch, pulling it through until the knot catches.
Use a basic straight stitch or a whipstitch around the edge of the patch. Make sure the needle goes through both the patch and the hoodie fabric, creating a secure attachment.
Continue sewing around the entire perimeter of the patch, maintaining even stitches. Ensure the stitches are tight enough to hold the patch securely but not too tight to pucker the fabric.
When you've sewn all the way around the patch, tie off the thread by creating a knot on the inside of the hoodie. You can do this by making a small loop and passing the needle through it before pulling it tight.
Repeat for Additional Patches: If you have multiple patches, repeat the same process for each patch, making sure to position them as desired.
Trim Excess Thread: Once you've sewn on all the patches, trim any excess thread.
Sewing on patches provides a durable attachment, ensuring that the patches stay in place even after washing. It may take a bit more time than ironing, but it's a reliable method to attach patches to your hoodie.
CONCLUSION
Before buying your hoodies and patches, I'd recommend checking recent fashion trends so you only pick up stock that sells like hot cake. For customizing hoodies with your logo, I would give a thumbs up to Patches Mania. They are a top-rated seller for patches with hoodies offering wholesale rates at a low minimum.
The excellent team designs in-demand customization for like chrome hearts black on black-on-black thruster hoody with patches and various on-demand flags. With Patches Mania, you can customize your seasonal hoody stock for art like a red rose on the stylish brown, and staggering blue.