WEAR CUSTOM-MADE PVC EMBLEMS ON CLOTHING

Patches for clothing are as old as traditional dresses. Pvc rubber and embroidery patches both are used for clothing. In the growing trends of custom patches, they are a source of decorating hats, shoes, and other clothing needs.
MAKING
The material for bend-able rubber-made Pvc is long-lasting compared to embroidery threads. Pvc patches are made of soft rubber, something more sturdy and durable. They are even more environmentally friendly and stay fresh after multiple washes. This makes them a popular choice for promotional marketing.
Let's find out how PVC custom patches help brand labeling and take you next level of promotion.
The Roles In Labelling Brand
Pvc labels come up with a variety of images and flexibility. Both ready-made and custom garments use them in different places like cuffs and collars. Pvc labels serve longer compared to nylon custom labels. Some of the key reasons for the super choice are:
They don't go fade early,
Pvc labels are washable
They are soft; don't clutter
Identity Element
Personalized PVC badges are the top choice for expressing identity. They show symbols and spread brand awareness. Different companies use patches on shirts to identify employees in working place.
They are used for school uniforms, satchels, organizations, and teams to showcase affiliation, membership, and honor.
Police Patches

When it comes to clothing Pvc, police silicone patch is a hallmark. The rough duty approach of security forces demands some harder labels to wear. Here come police vests that need Pvc-made badges on the shoulder, sleeves, and chest.
PVC Rubber on Jacket
The use of PVC rubber labels is vast. They are not limited to garments. Fashion accessories use them for purses, bags, and sandals. Imagine you need a caution tag in your office made of colorful PVC, or no smoking rubber label in your car. Surely a growing trend replacing flimsy stickers that go fade-in or ripped off.
Wearing PVC Patches on Clothing
The best thing about Pvc made patches is that are they easily worn on shirts and clothing. They can feasibly Sew-on the garments and paste on the clothes with Velcro backing. They are fixed firmly as another benefit of wearing rubber custom patches.
What Is An Ideal Size?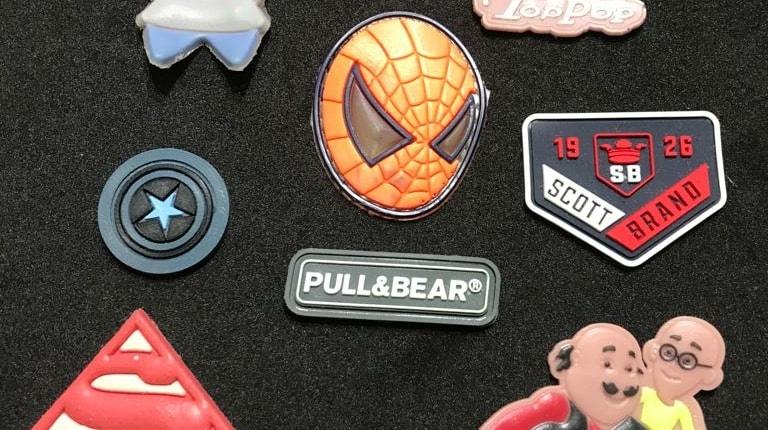 PVC labels are mostly small in size and made of different shapes like zipper pulls etc. The tiny size does not dominate the overall look of the garment. While wearing hats and cuffs is again a smarter choice. 3D Pvc labels are widely used for kids' footwear.
PVC Labels on Clothes and Shoes

Pvc labels mostly highlight the owner's identity or represent a brand. This happens to be placed on the arm, shoulders, and footwear.
Customized Rubber Badges
When using PVC badges on garments, the role is mostly decorative. They are mostly customized as per personal or brand preferences. Wearing Pvc is mostly small in size, however, the actual size is pre-defined according to designer ideas.
Patches on T-shirt
What a clothing brand can not skip is creating tees. It's a must-do thing to reach a larger audience. Pvc shirts are a great source for branding and promotion.
Patches Mania has vast experience to create patches for clothing and PVC shirts. We are always happy to help our clients. You can email or visit us at any time for free advice on your business needs!