Top Rocker & Chenille Patches Creator In Wholesale
[BUYERS GUIDE]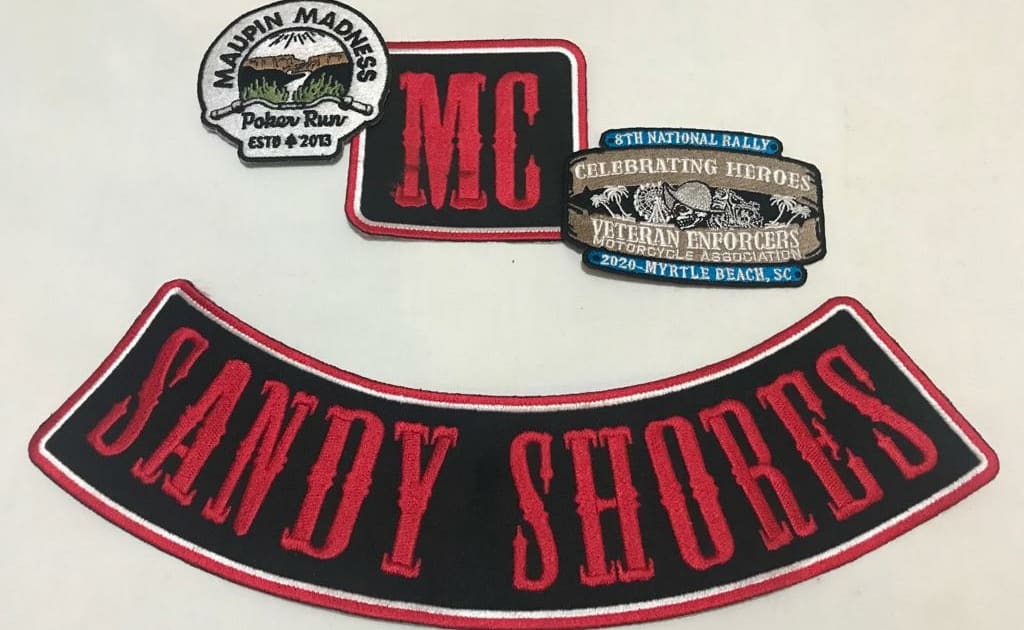 Have you ever seen those cool embroidered patches on the back of people's jackets and thought, "I wish I could do that?" Well, now you can! With embroidered rocker patches creator in the U.S., you can generate your own unique and stylish patch in no time at all. So stop wondering how to make those rockin' MC patches and start creating yourself!
Using Patches Mania Services, you can make custom patches for biker clubs and for yourself in coming rallies.
Before you make any decision, let us tell you a few mandatory steps to find the best personalized patch makers for biking. This should help you find an mc generator near you.
Fabric Type
Backing Option
Types of Rockers
Recommended Size
How it Works
Why Patches Mania
Let's begin with your clothing;
1. Fabric Type/Target Garment
In this field, you need to see what fabric your garment is. Rockers are mainly used for biker vest placement and jackets. They both are either made of leather or denim.
2. Backing
There are two types of backing support most of the custom patches come with.
Heat Seal/Iron-on
Sew-on
If you have a genuine leather-made jacket, then we recommend sewing. Whereas, denim is good to go for iron-on custom rockers.
3. Types Of Rocker Patches
It's not too long since bikers were only aware of embroidered patches. But now motorcycle rockers come in both known types of custom embroidery.
regular/satin – used threads like viscose/rayon, candle, etc.
chenille embroidery – used wool and frizzy yarn
The growing trend of chenille machine embroidery introduced the mc rockers and vests emblems in a mix of chain stitch and wool patches.
4. What Size Is Best
Chenille patches for a jacket back, hoodie, or rockers are available from a small MC logo to up to 14 inches. No matter, what size or dimension you require, we make it possible for each angle to come as instructed. You can have a height to be perfect and a width to be promotional and vice versa. Order script Chenille mixed patches as per your need. A common size available is 4 inches script chenille, 3 inches script chenille, and 4 inches script embroidery patches.
5. How It Works
Every manufacturer needs a try to prove itself. Being a top seller custom maker of rockers, we need to prove it every time. Our production staff uses the best quality twill/backer fabric, non-woven felt, yarn/wool, state of art scissors machines to generate each custom logo. Even blank rocker patches for jackets follow all the standard operating procedures.
WHY USING FELT
Felt actually ensures your artwork comes out more elegant and solid. Plus, our cropping department cleans off each unnecessary thread from your patch to give it the purest touch.
Cutting Off Chenille Patches
In another phase of cropping after machine chenille embroidering, the cropping department cut off each sample piece through state of art laser cut machine. There are many vendors who go through manual ways using hand scissors for this. However, we believe custom scissors have to match to laser cut machine. Laser CNC machines ensure your patch edges are sharp and hot.
6. Why Patch Mania
We are one of the valid rocker embroidery patch builders. We are a professional and leading supplier of custom patches, MC rockers, and insignias. We manufacture a wide range of products including custom-made-to-order patches, emblems, and insignias for uniforms, hats, jackets, vests, and other apparel.
With over 5 years of experience, we have been committed to providing our customers with high-quality products and services at competitive prices. Our expert staff can help you generate rock-style custom patches for your needs. Feel free to get advised for your next patch styling; contact Patches Mania for all kinds of custom made patches.