Buy Big Chenille Letters For Patches at a Cheap Rate
Chenille Letter Patches is a growing trend to elevate your today's fashion game. chenille embroidery letters allow teams, students, and sports supporters to wear their identity with pride.
Ordering chenille letters for custom jackets, sweaters, or uniforms needs the right specifications to stand out in a crowd.
Let's begin with types of letters in chenille patches;
Two Types of Chenille Letters
Ordering chenille embroidered letters have two types;
Alphabets
Words
Alphabets
Alphbests refer to English alphabetical order that describes brand names or acronyms. They are vibrant, cool, and eye-catching.
Words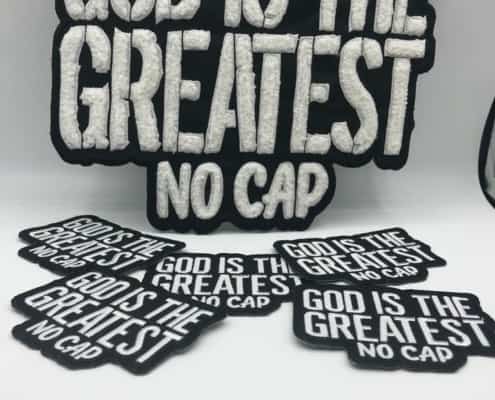 Buying words means chenille made text in one go that reads custom fonts.
What Is The Difference Between Chenille Letters and Word?
When it comes to creating custom patches for chenille, the difference between chenille letters and words is letters keep their distance and each letter split separately, while chenille text or words are created as one patch in frame, round, rectangle, or die-cut shape.
Best Size for Chenille Letter Patch
Chenille patches have various sizes as per clothing placement. Big sizes are ideal for clothing garments like varsity jackets, sweatshirts, and hoodies. The front and back use of large letter patches reads custom names and alphabets.
Check Right Backing Before Purchase
Before any purchase of a chenille letter patch; backing type is something that you should know well. They come with a sew-on, heat press and self-adhesive peel-off backing support. Let's talk a little more about the most used iron on and adhesive.
Iron-On
Iron on chenille letter patch features a thin chemical layer that looks shiny from the back but it is heat pressable. This is the most used backing support customers love to buy. It enables end-users to stick patches easily because it only needs adhesive spray and a heat press machine. Check this page for detailed instructions.
Self-Adhesive
Adhesive or self-adhesive are sticker paper back chenille letters. They are ideal for quick and short-time use. It is definitely a hot choice for party and event wearing. All you need to do is peel off the paper on the back and stick to the target place without any toolkit needed.
Best Color Selection To Buy
Chenille letters come variety of color yarns. White chenille letters look elite, while red letter patches are overwhelming to clothing. Another most used is Vegas gold for an appealing look.
What Are Most English Alphabets Selling?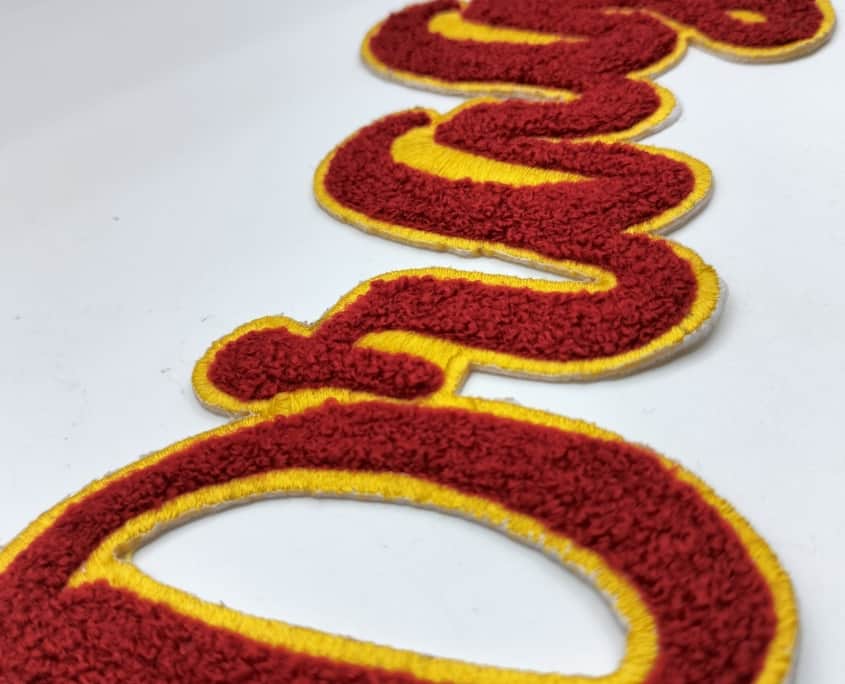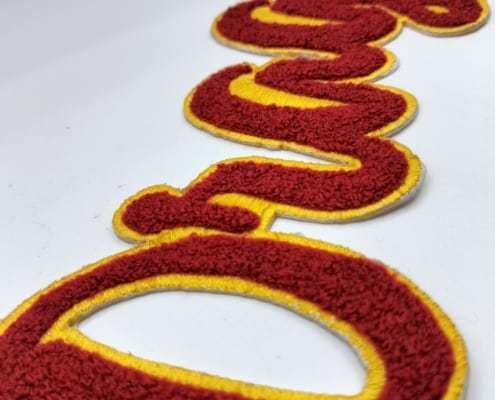 It all depends on the demand, while Greek letters, and slogans like DOPE, DRAGONS, and PANTHERS are some of the most ordered chenille letter patches.
Pick Best One & Stylish
Block alphabet letter chenille patches are the most selling inventory. Since chenille embroidery feels fluffy in big sizes Caps Lock letters look unique.
What Fabric Is Used For Selling Chenille Letters?
Unwoven synthetic felt is the most used fabric for letter patches in chenille. Due to the scrim nature of the fabric, felt makes each letter stand out and quality quality-equipped.
Alternately, glitter sheet is also one of the hot selling choices in chenille letters. The left-out edges of gold/silver glitter on patches give old fashion but antique approach.
What is the Price Range for Chenille Embroidery Letters?
Buying cheap is everything above from the buyer's point of view. Meanwhile, quality can not be compromised. Custom chenille patches prices vary as per size, color count, and quantity. Hence, most of the companies offer custom price quotes.
Where to buy Top Quality Letters in Chenille?
Patch Mania is arguably the best online chenille embroiderer in town. They take care of small businesses with the least minimum quantity and offer wholesale pricing to all.